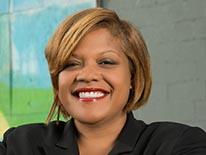 Courtney R. Snowden serves as the Deputy Mayor for Greater Economic Opportunity in Washington, DC, appointed by Mayor Muriel Bowser in April 2015. A sixth-generation Washingtonian, Courtney is charged with rebuilding and revitalizing overlooked and underserved communities, with a focus on building a world class workforce system and growing a vibrant small business ecosystem in the nation's capitol.
Formerly a Principal at The Raben Group, a premiere progressive public policy firm, Courtney relied upon a wealth of grassroots organizing, electoral, and policy experience to work for her clients. An accomplished political strategist, Courtney lobbied for the firm's corporate and non-profit clients, including: Google, MasterCard, Airbnb, the National Urban League, the National Education Association, and Time Warner Cable.
Prior to joining The Raben Group, Courtney served as the Senior Lobbyist for the National PTA, directing their advocacy efforts on a variety of legislative issues including budget and appropriations, vouchers, and No Child Left Behind. In addition, she led the effort to mobilize the National PTA's six million members and effectively prepare them to serve as competent citizen activists on behalf of "Every Child, With One Voice." During her tenure at the National PTA, she chaired the National Coalition for Public Education (NCPE), a coalition comprised of more than fifty education, civic, civil rights, and religious organizations devoted to defeating state and federal efforts to create publicly funded private school voucher programs and tuition tax credits.
Courtney also served as the Federal and National Policy Manager for the Gay, Lesbian, and Straight Education Network (GLSEN), where she strongly advocated for policies to prevent discrimination and bullying of LGBTQ students in our nation's schools.
Courtney started her career in the Office of Congresswoman Tammy Baldwin where she served as a staff assistant and a legislative associate. Immediately following her time on Capitol Hill, Courtney was the Political Assistant at the Human Right Campaign, the nation's largest LGBT political organization in the country.
Courtney is a graduate from DC Public Schools, and earned her B.A in Political Science from Beloit College. She lives in the Deanwood neighborhood of Ward 7 with her two sons, Malik and Maxwell.