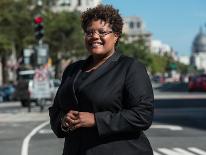 Courtney R. Snowden is a sixth-generation Washingtonian born at Howard University Hospital. Raised in the Shepherd Park neighborhood of Ward 4, Courtney now lives east of the river (EOTR) in Ward 7 with her young son, Malik. In 2014, Courtney was elected Alternate National Committeewoman to the DC Democratic State Committee, and later ran for an at-large seat on the DC Council. The Washington Post endorsed Courtney as the foremost candidate in the 15 person field, recognizing her "keen understanding of the need to connect neighborhoods if the city is to thrive. She understands policy, is adept at building coalitions and is both smart and passionate about education reform."
Courtney is a graduate of DC Public Schools and received her B.A. in Political Science in 2000 from Beloit College in Beloit, WI. After graduating, Courtney returned home to the District to join the legislative staff of Congresswoman Tammy Baldwin (D-WI) on Capitol Hill.
An active leader in the city's LGBT and African-American communities and a staunch public education advocate, Courtney has devoted her life to making Washington, DC, a better place for all its residents, corner to corner. She has a record of coalition building and bringing people from different backgrounds together from across the city.
As a principal at The Raben Group, a premiere progressive government relations firm, she advises the firm's clients on a variety of public policy issues through direct lobbying, strategic planning, and coalition building. Her diverse client portfolio includes Google, the Committee for Education Funding, the National Urban League, and Graham Holdings.
An active, engaged volunteer her entire life, Courtney has lent her grassroots mobilization expertise to Democratic campaigns around the country. In 2008, she served as an active member of Women for Obama and LGBT Americans for Obama, acting as a surrogate around the country. For the last six weeks of the general election campaign, she volunteered her time and talent in Colorado to get Barack Obama elected. She's also worked on the campaigns of several members of Congress and a number of candidates in the local DC community. Her first campaign was in support of Arrington Dixon for DC Council when she just a little kid.
Courtney moved to the Deanwood neighborhood of Ward 7 in 2005 with her twin sister, Crystal Snowden. Crystal is a teacher, first at Ron Brown Middle School and presently at Friendship Collegiate High School. In that time, Courtney has served as a mentor and tutor to academically challenged students in Ward 7.
Public service was instilled in Courtney by her parents, Calvin and Diana Snowden, and she lives those values through her service on the boards of the Richard Wright Public Charter School and Rockson Community Development Corporation. In 2008, she served as the first female board chair of DC Black Pride, and she's was an active member of the DC GLBT Advisory Committee.