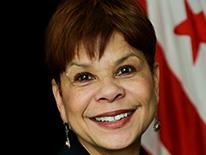 Brenda Donald returned to the DC Child and Family Services Agency (CFSA) as its director in January 2017. Previously, she served as deputy mayor for Health and Human Services (DMHHS) for the District of Columbia beginning in January 2015.
As deputy mayor, Donald was charged with ensuring residents of all ages receive the services they need to lead healthy and productive lives in Washington, DC. Under her leadership, DMHHS successfully managed the close-out of the DC Trust; led efforts to establish the Safe at Home program, a partnership between the DC Office on Aging and the Department of Housing and Community Development; opened Genesis, the first intergenerational housing program for seniors and young moms aging out of foster care; and established Safer, Stronger DC Community Partnership Prevention Programs, through which more residents are connecting to job training and employment opportunities, communities and families are working to end cycles of violence, and students throughout all eight wards benefit from rich summer and out-of-school programs.
Widely credited with accelerating the District's ongoing child welfare reform and establishing a host of performance improvements, Donald served as director of CFSA from January 2012 to December 2015. Within the first two months of her tenure, the native Washingtonian established a strategic agenda known as the Four Pillars that has focused the District child welfare system on improving outcomes for children, youth, and families.
Director Donald originally joined CFSA shortly after the District elevated the child welfare function to a cabinet-level agency, serving as the agency's first chief of staff from 2001 until April 2004. She was agency director until July 2005, and then served as DC deputy mayor for Children, Youth, Families, and Elders until December 2006.
Donald has over 25 years of senior management experience in the public and non-profit sectors. Before rejoining CFSA, she was vice president of the Center for Effective Family Services and Systems at the Annie E. Casey Foundation, the nation's largest organization solely dedicated to improve the lives of vulnerable children and families. As secretary of the Maryland Department of Human Resources from 2007 to 2010, Donald was responsible for designing and implementing two major systems reform agendas: Place Matters, a comprehensive overhaul of the state's child welfare system, and MD RISE, a workforce development initiative for welfare and child support customers. In 2010, the Maryland Daily Record named Donald one of Maryland's Top 100 Women.